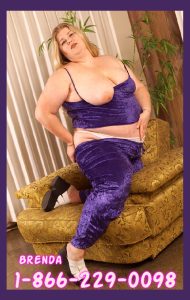 Get ready for my fatty phone sex. Your eyes undress me & your hands caress me. You love taking your time. Savoring every curve and roll. Smaller girls just don't do it for you. Us bigger girls are so grateful for getting attention. We don't turn you down & say no like those skinny girls do.
Go ahead & indulge in my Fatty Phone Sex. My hot sweaty fat puffy pussy entices your tongue inside. More cushion for the pushing.  I take every inch you have to give. More potatoes for your meat. Consider me your big fat treat! Your in heaven.  Let me be your curvy temptress, your chubby mistress, your fat cum slut.
Take advantage of every inch of me. Work your way up to my big fat engorged tits. Suck on my huge pretty pink nipples. More than a mouthful. I am your plump slut ready & waiting to take your cock. When that skinny bitch says no or has a headache call me. I will be your big fat side chick . The freaky fatty that sucks your dick down to the last drop!
Call 1-866-BBW-0098 ( 1-866-229-0098) for more!
Email me at: sweetbrenda254@outlook.com
Want to see more of me? Buy my pictures at the link by clicking >here<