Indulge in my Freaky BBC Phone Sex! Laying naked on the bed with my hands above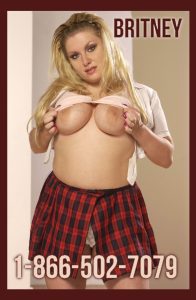 my head in metal handcuffs. The cool metal against my skin excites me as your hungry gaze drinks me in. Your eyes travel up and down my body as your rough hands slide against my skin. Our eyes meet as you lean down and start sucking on my hard nipples, swirling your tongue around my red buds. Kissing them both lightly as I feel your hot breath against my skin.
Your hard black cock pushing and rubbing against my inner thighs. Grinding your fat black dick between my pussy lips as the head pokes and rubs my clit every time you thrust against me. Your lips kiss my lips and neck while your large hands fondle my big tits. Sliding down my body the tip of your thick mushroom head rubs against my pussy. You push inside of me slowly as you spread me open, thrusting your cock deeper.
Filling my pussy up and stretching my cunt to fit your black cock. It feels so good when you start to move inside of me during Freaky BBC Phone Sex. hitting deep in the back with your thick dick. Pushing in deeper as you start fucking me hard, slamming into me deeply. Making me feel your monster cock penetrate my tight pussy as you grab my hips and grind into me.
Call me 1-866-502-7079 !!
Email me at  partygirlbritney@outlook.com
Buy my pictures at the link  >Here<