You walk by my door and can hear faint moans through the crack. Peeking inside you see your horny mistress getting fucked by a ten-inch cock. You can't help it, can you? Watching that huge thick dick plow my dripping, hungry pussy. I look over and see you watching us like a bad little cuck when I call you over.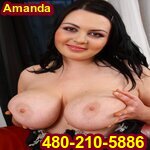 You get on your knees as you watch this hung stud fuck me. Don't you dare touch yourself yet, that's my job. And now that I have all this fresh cum in my pussy, now it's time for your job subby. You look so excited as you crawl on the bed and between my legs. Your tongue going deep into my pussy as you eat out that fresh hot cream pie. It tastes so good, doesn't it?
Now turn around and bend over. Get into position, good boy! Are you ready for your mistress's strap-on cock? Then spread your cheeks for me like a good little slut as you wait for me to lube up my cock. You start to moan when I rub the head against your slutty sub pussy. I push it inside slowly as you arch your back to take me in deeper. Grabbing your hips I start to thrust into you hard as I pound your pink little rosebud. Take it all, every inch as I fill you up. Now beg, beg for my fat strap-on cock to make you cum. You know you want me deeper, you little bitch.
Call me for Curvy Cuckold Phone Sex 1-480-210-5886!
Email me at amazingamanda3187@yahoo.com
Buy my pictures >here<