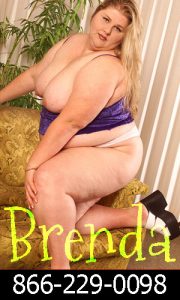 Thirsty? I can't wait to drown you in my juices. My fat ass and pussy made for loving. Enjoy everything that comes out of my hot cunt and ass. From golden showers to sweet treats I can't wait to feed you everything I have to offer.
Don't be shy, lets get nasty! I will take about all the things the other girls won't. No judgment here. Feel free to confess your deepest darkest desires! Do you have a little dick? Want me to humiliate your pathetic cock while I piss all over your face?
Or perhaps humiliation isn't your thing you have a big hard cock to fill me with. I love being fucked hard by long fat cocks. Fuck me until I cream cum and piss all over you. Squirting all over the bed. Making your cock nice and messy.
Then if your really dirty you will get down there and clean up our mess! Licking up all my fuck juices! Don't hold back I am a no taboos all fetish fucking nasty phone whore! I can't wait to play with you.
Call 1-866-BBW-0098 ( 1-866-229-0098) Lets get your freak on!
Email me at: sweetbrenda254@outlook.com
Want to see more of me? Buy my pictures at the link by clicking >here<